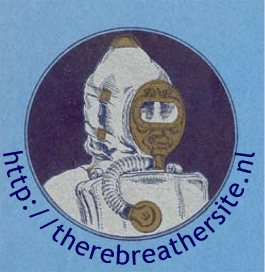 4:40pm 11-06-2016

I was one of two people who worked for Bob Nicholson on the SCR4.
Among other fittings, I built the scrubber.
Hard to believe that was 20 years ago
JL
4:04pm 11-04-2016

I worked for a Siebs, Gorman & Co. Subsidiary, James H north & Co., they sent me on a course for CABA Equipment, brilliant stuff. I actually use Oxygen now, (through night on Condenser), and have small portable Cylinders. Is there a Regenerative Kit available for general use? It would be brilliant to have along in the Jeep, or the Boat when Fishing/ sailing! Needs to be Portable of course. I still have the Book by Robert H Davis, 'Breathing in Irrespirable Atmospheres'.
2:51pm 10-23-2016

Very intéressant
7:11pm 10-18-2016

I picked up a beautiful Pirelli long range rebreather. I believe it is a model 901. I am missing the mask that goes with it and wondering if there are any leads as where to find one. What I have are two sets of the harness for it. Thanls Bob
10:07pm 10-17-2016

Good job!
2:31pm 10-07-2016

During my sub training in 1958 in New London,conn., we used the Momson lung in the 100 foot tower used for training. We also trained for the "free ascent" which was used for depths too deep for the "Mommsen". We did one
in open seas while aboard the USS BALAO(ss285). I would like more info from those who used this method in WW2. I always wondered how successful they were from deeper depths beyond the capacity of the Mommsen Lung.
1:41pm 10-03-2016

I am japanese.I like FINO.
more FINO picter UP.
1:37pm 10-03-2016

I am JaPanese.I like fino.
but I cannot use fino.
MORE fino PICTER
6:31pm 10-02-2016

Thanks for a great article. As a kid in Ocean City, I would ride my bike down to the Smugglers Shop every day to walk around that store. Loved it.
3:35pm 09-28-2016

My dad worked at Hamilton Standard and was the managing chief engineer for the PLSS development. I have a picture of the prototype for Apollo 11-15.My dad passed away and I am having a hard time finding someone to verify this. Can anyone help?
3:40am 09-19-2016

Dave, don't think I'm ready to try this yet; to young at 70. still free diving for abs at 50' occasionally. what equipment do you need to manufacture the parts? Have you always been the mad genius? Seems really cool. Congrats.
11:14am 09-01-2016

31 AUG 2016
I am serious collector dive helmets (over 100) based in Singapore. If you have any helmets for sale pls contact me.
Especially interested in Miller - Dunn MKV - if you get the HDS magazine - I was 1 of the very early founding benefactors
Best Rgds
7:21am 08-14-2016

I worked for James E Dean Marine divers from 68 to 81 and John Girard was my tender until I "broke" him out. Jimmy bought two of these systems at 30K each and we never really used them much. Dave Morrison and myself did most of the deep diving (up to 300') on air with like 20-25 min bottom times. I think George Wymer was the one who talked Jimmy into buying them. When Jimmy died I ended up with one of the units which I am fixing to put on ebay.
6:33pm 08-10-2016

What a comprehensive website about rebreathers! It must have taken you a long time to get all this information. Very good job I must say! Best Regards, Peter kredittkort from Oslo
6:00pm 08-05-2016

We used these rigs, the MK6, in the Deep Reconnaissance Plt back in the mid 70s. The Corps disbanded Force Recon Co in 1974 and deployed only the platoon sized version. This eqpt was better than nothing, but was a very dangerous rig because of possibility of
slicing air hoses. Seawater in the closed circuit created a poison gas in the system. It was what the Corps could afford. Meanwhile the SEALs were using Draegers. Assess, adapt, overcome.