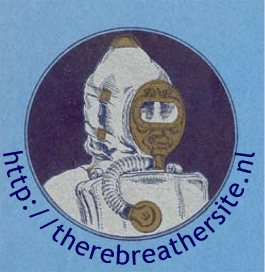 7:14pm 07-27-2016

Great collection :-))
9:56pm 07-22-2016

Really interesting site.
2:01am 07-21-2016

Great site and pictures, thank you. Denny
8:17pm 07-15-2016

I enjoy every piece of history .I work for Draeger in the Alcohol breathalyzer part of the Company.
6:08am 07-12-2016

Very, very interesting site.
I have the possibility to shot many photos of the Pirelli "uomo gamma" rebreather in september 2016
I live in Genua, Italy
12:32pm 07-11-2016

Thank you for the information on these pages. I have an MSA OBA A-4, and was trying to find the date of manufacture, but most grateful for the information on the site.

Regards
11:13am 07-01-2016

Ich wünsche Ihnen weiterhin viel Erfolg
7:01am 06-16-2016

Great information! Jeroen Gompelman showed me this website. Keep up the good work, brgds Serge
11:52pm 06-15-2016

looking for a book by eric micheletti 'warriors from the deep' Thank you for any assistance in obtaining to this text and how i might be able to get a hold of it. Ron
6:31pm 06-13-2016

SFUWO 1972
4:36pm 06-13-2016

Hi. Good site.Thank you.
7:17pm 05-18-2016

It's great to see the pioneering days of diving preserved for all to read about. Brave and adventurous Participants.

Sincerely, Kevin End
5:09am 04-04-2016

Love your site and the historic records it keeps. Keep up the hard work!
3:46pm 03-28-2016

Thank you for your work!
5:47pm 03-20-2016

congratulation