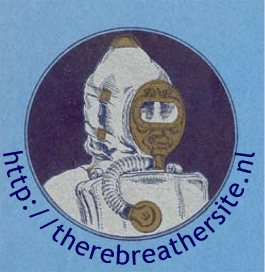 2:11am 08-13-2018

Tim Ruben

I was gifted a msa chemox a4 rebreather sans the canisters today, thank you for hosting information about it.

Its a scary device, I may be able to retrofit it with a compressed air tank and an adsorbent canister in place of the oxygen candle if I am unable to find serviceable canisters.
3:39pm 08-01-2018

Jerry Edgar

Thanks for the information i just aquired a Chemox and a Mckay that were used in the mining industry for Mine Rescue. Planning on putting them on display at our Mine Safety Training Center
7:17pm 07-19-2018

adam

thank you for info
12:38pm 07-17-2018

Deborah Summers

Great site. Just one thing- Fred's last name is spelled Broennle. I was married to Fred and shared many of his adventures. As Maria said earlier, he was an amazing person. Too bad it is so difficult to find a copy of the NFB film "Drowning in Dreams". Myself and his sons would love a copy, especially Tug.There is so much history with Deep Diving Systems and the things they accomplished. It's too bad most people now in Thunder Bay have no idea of what was going on here back in the 70's and 80's with respect to diving, and the submersible he built called the Constructor.
10:29am 07-15-2018

Christopher Robinson

Finally finished "Blind Man's Bluff". It took a while to find a copy I could buy. And, somehow stranger still, is that it took a long while for me to have even heard of the book. The subject matter is right up my alley. A true fantastic read-- I've read alot of books, and this IS up in my Top 3. To be able to actually SEE some of the items & tools that were used in the Top Secret programs.....very cool.
I'm in the process of finishing up "The Taking of K-129" by Josh Dean....Mr. Dean has quite obviously done an exhaustive amount of research on the entire ordeal.
Anyways....wanted to say how much I enjoyed the info on your site. I'll be showing it to many others!
11:03pm 07-11-2018

Struwa

BIIIIIIIIIIG BIG Thanks to you for rescuing the football team in Thailand. You are a real hero!!!!!!!!!!!!!!! People like you are very rare today. The very very best wishes to you from Germany))
7:22am 07-08-2018

Adam

Thank you for the info
12:53am 07-04-2018

刘雪松

i forme china gangzhou inames liuxuesong 07-03-2018
5:03pm 07-03-2018

Nick

Nice work in Thailand!
3:14pm 07-03-2018

Francesco

Very very very useful and informative website! Thank you so much for sharing
6:52am 07-03-2018

edwin mwaniki

Good technology and effort and leading in the rescue of the trapped boys.Congratulations..
6:45pm 06-29-2018

Luigi Fabbri

very interesting site!
9:34pm 06-25-2018

Peer Heijnen

hi
gave site
graag wil ik mijn siva 24 100% oxygen verkopen. ik heb een mail verstuurd
12:43pm 06-19-2018

Mike Lamprey

Hi Jan!
I am in the process of translating the AT-1 details from Russian for you. I am also wanting to buy a Castoro C96 PRO CE from OMG. I have a Drager Ray but I find that to be too large and heavy for coastal diving, (especially the coast of north Cornwall where I live). Drager recommend the Ray for recreational/sport diving but a boat is essential and the cost becomes prohibitive.
I would appreciate any recommendations from you regarding the C96.
Best regards,
Mike
11:17pm 06-14-2018

Brigitte Bech

Proud of you my brother..