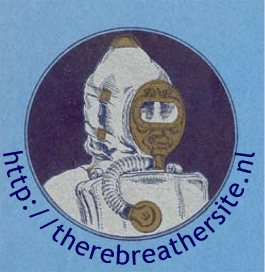 11:11pm 07-21-2017

Andrei

Sehr interesant.Congratuliren!!
4:43pm 07-05-2017

L.W.Gay

I have been trying to find pictures or videos of the diving equipment I used in the Royal Navy during the 1970s and came across your site. I notice you have pictures of SABA, both as a closed circuit AIR (not oxygen as stated) system and as a re-breather. I'd like to point out that the cylinders are up side down. The reason they were the other way up was to enable the wearer to reach the equalising valve on the right hand tank. As the only pressure gauge was located on the frame this couldn't be used to determine how much gas remained. The drill was to have the left tank open and the right was the reserve. The left tank would be breathed down "dry" , the diver would stop breathing and the equalising valve opened, once pressures were equalised the valve would be closed and breathing would continue until "dry" again, equalising drill would be done as before. At this time the diver would surface having 25% air remaining. Endurance on the set was around 50 minutes, for the average dive operating at normal working depth, 15 = 30 feet at maximum capacity was 120 bar. The only video I've found is on youtube search "DEEP DIVING TRIALS (1965)" which shows, albeit briefly the sets configuration. It was a fabulous piece of kit to dive in with a weight pouch at the front and a box at the back, which put the weight exactly where it was needed, in the centre of the torso. Congratulations on your excellent site. I hope you find this useful. Les
1:31am 07-05-2017

john

I am a SCBA/vintage SCUBA enthusiast and this is one of my favorite websites
2:35am 06-29-2017

William Blackett

Thanks for the opportunity of reconnecting again with the apparatus I used years ago when I worked underground in the Durham coalfield.
2:26pm 06-23-2017

Paul Marriott

Hi I used to be an officer in the UK Mines Rescue Service and have worn a number of Re-breathers AIROLOX, Proto MK4, ARGA Spiro, and Sabre Safety SEFA, great to see the information you have amassed.

Best wishes
6:08am 07-12-2016

Massimo Lombroso

Very, very interesting site.
I have the possibility to shot many photos of the Pirelli "uomo gamma" rebreather in september 2016
I live in Genua, Italy
12:32pm 07-11-2016

Alex Gloster

Thank you for the information on these pages. I have an MSA OBA A-4, and was trying to find the date of manufacture, but most grateful for the information on the site.

Regards
11:13am 07-01-2016

Alan

Ich wünsche Ihnen weiterhin viel Erfolg
7:01am 06-16-2016

Serge Slingerland

Great information! Jeroen Gompelman showed me this website. Keep up the good work, brgds Serge
11:52pm 06-15-2016

Ron Acosta

looking for a book by eric micheletti 'warriors from the deep' Thank you for any assistance in obtaining to this text and how i might be able to get a hold of it. Ron
6:31pm 06-13-2016

Marion Witte

SFUWO 1972
4:36pm 06-13-2016

Ujin

Hi. Good site.Thank you.
7:17pm 05-18-2016

Kevin End

It's great to see the pioneering days of diving preserved for all to read about. Brave and adventurous Participants.

Sincerely, Kevin End
5:09am 04-04-2016

Ty Wyatt

Love your site and the historic records it keeps. Keep up the hard work!
3:46pm 03-28-2016

Luigi Fabbri

Thank you for your work!