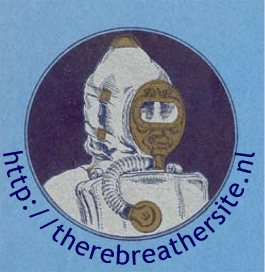 10:16am 01-06-2019

TOMS CHEN

Sorry to truble you. LAR V is still unsold?i want to buy LAR.
4:44pm 01-04-2019

Piper

Interesting stuff!
5:35pm 12-07-2018

Jackson Seymore

A tremendous inspiration to anyone who aspires to breathe in a bag underwater.
1:04am 11-28-2018

Erven Cestnick

Brings back many memories.
3:36am 11-26-2018

ben

good stuff
1:30am 11-17-2018

Brian Robinson

You see I still visit
1:32pm 10-13-2018

Anthony Appleyard

Much useful rebreather information
9:04am 08-17-2018

Igor

wow, nice to see something from the history of diving
2:24am 08-13-2018

Ian McLeod

King Hague was my diving instructor (NAUI) in the late 60s. Myself and several other members of the AquaY Scuba club traveled to Rossport when King drowned....
2:11am 08-13-2018

Tim Ruben

I was gifted a msa chemox a4 rebreather sans the canisters today, thank you for hosting information about it.

Its a scary device, I may be able to retrofit it with a compressed air tank and an adsorbent canister in place of the oxygen candle if I am unable to find serviceable canisters.
3:39pm 08-01-2018

Jerry Edgar

Thanks for the information i just aquired a Chemox and a Mckay that were used in the mining industry for Mine Rescue. Planning on putting them on display at our Mine Safety Training Center
7:17pm 07-19-2018

adam

thank you for info
12:38pm 07-17-2018

Deborah Summers

Great site. Just one thing- Fred's last name is spelled Broennle. I was married to Fred and shared many of his adventures. As Maria said earlier, he was an amazing person. Too bad it is so difficult to find a copy of the NFB film "Drowning in Dreams". Myself and his sons would love a copy, especially Tug.There is so much history with Deep Diving Systems and the things they accomplished. It's too bad most people now in Thunder Bay have no idea of what was going on here back in the 70's and 80's with respect to diving, and the submersible he built called the Constructor.
10:29am 07-15-2018

Christopher Robinson

Finally finished "Blind Man's Bluff". It took a while to find a copy I could buy. And, somehow stranger still, is that it took a long while for me to have even heard of the book. The subject matter is right up my alley. A true fantastic read-- I've read alot of books, and this IS up in my Top 3. To be able to actually SEE some of the items & tools that were used in the Top Secret programs.....very cool.
I'm in the process of finishing up "The Taking of K-129" by Josh Dean....Mr. Dean has quite obviously done an exhaustive amount of research on the entire ordeal.
Anyways....wanted to say how much I enjoyed the info on your site. I'll be showing it to many others!
11:03pm 07-11-2018

Struwa

BIIIIIIIIIIG BIG Thanks to you for rescuing the football team in Thailand. You are a real hero!!!!!!!!!!!!!!! People like you are very rare today. The very very best wishes to you from Germany))