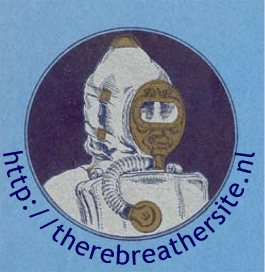 9:18am 03-07-2014

Charlie Navarro

Hello from South Texas of the USA from the city of (Pharr) just wanted to say hello and say I'm very happy to come across this web page (blog) . I don't know much about rebreathers but thankfully I know I'm in the right place .thank you for taking the time for answering my emails hope to learn and do business in the near future best regards Charlie
9:12am 02-26-2014

Dean Kilsby

The SAFB had them in the 1960s used them sparingly (cost)
11:11pm 02-23-2014

Francesco Papetti

I practice SCUBA diving since 1974.
I began with two Pirelli tanks and Pirelli regulator.
Now I'm looking for documents about a 1954 dive in the cave of Acquasanta Terme (Italy). I suppose the diver used Pirelli LS901.
Thanks for all information,
Francesco
Pescara (Italy)
6:17pm 02-21-2014

Luc DELBECQUE

Thank you for your very interesting site. You are a very efficient geek and a nice person, Jan Willem !
3:56pm 02-19-2014

Ryan Derks

Interesting site. very complete. You keep watching.
10:24pm 02-15-2014

Mats Høvin

Fantastic site!!
4:13pm 02-15-2014

RJ Hallett

For years I was acquainted with Gene Zimmerman, a man of exceptional brilliance, from Beloit, Wisconsin, who had been involved with 3 other men in some study and project to raise Gunilda. He had talked and consulted with me about it for years as my background is in industrial overhead lifting handling equipment and structural relocation. I recall him speaking of travels there, meeting with some of the others to survey the area. He's deceased now and I've been trying to recall some of that he had shared with me. Might any of this sound familiar?
3:08am 02-11-2014

Ed Fogderud

Great stuff. Thanks Ed...
12:44am 01-28-2014

Charles Read

Time i got into rebreathers again.
5:47pm 01-18-2014

David Boarer

Hi. really interesting pages thank you for them. Qualified Royal Navy Rebreather Diver in 1962, moved into Commercial Diving 1972 only air Diving. Bought four wrecks and plundered them and others until 2003 when I sold up and came to live in Brittany in France. Not given up yet, still get my head wet now and again. Enjoyed the site. Regards Dave
10:18pm 01-16-2014

Noel Rees

Hi Michael, Please can you send me some details and prices for the the Ali box.... And titanium.... Have recently purchased an Inspiration vision.
Kind regards
Nole
7:31pm 01-13-2014

John Chalus

I really would like to be there but I live in New Jersey USA.
6:41pm 01-13-2014

John Chalus

I'm a former SEAL and love this site.
10:26pm 01-08-2014

Michael Domitrek

nice
4:29pm 01-03-2014

Alex Golovine

i am interest in buying and electrolung RB for display only as complete as posible. can u sell my one or do u know of anybody that has or is will ing to sell one. Jus got and RB 80 and CisLunar for 5 K US each for display only Thanku and let me now Ale g Houston Texas