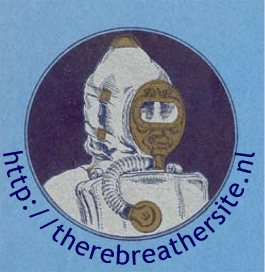 3:53am 03-11-2018

Dear Sir!
My name Mr BInh, Im in Vietnam.
Im interested your product, I need buy your product: W70 oxygen rebreather with qty: 6 pcs
Can you for me price lists and catalog pls?
See your reply soon
Thanks!
1:11pm 03-04-2018

intersting site! I dive (open circuit SCUBA) but love history
4:30pm 03-03-2018

I am very impressed with the depth and breadth of information on your site! I am particularly interested in Christian Lambertsen's LARU US Navy rebreather project. Thanks
2:21am 02-28-2018

Loved your work on Iron Mike. Seeing him as a child, I've always wondered where he is today. Hope to see him in the years ahead.
4:21pm 02-24-2018

Really interesting
8:44pm 01-30-2018

Found your site by Google search. Great historic information on Mine Rescue SCBA's. I will be using the site often.
Thank you,
10:54pm 01-25-2018

Very nice website !
4:06pm 01-04-2018

Hi Jan I've been visiting this page a lot in past 15 years, since the time this was the only site with real info on different units...personally have been diving since 1986. and for different reasons I still do an OC but feel strongly that time for me to go CCR is here as I still do a lot of deep air and some mixing I do for my deco gasses and I am getting older...anyway since recently I live in the Netherlands (Amsterdam) and would really like to meet in person and talk about some things. I would really like to get one MK15.5 as ultimate unit for me, but before that maybe to start diving with some other unit first..?
12:56am 12-31-2017

Daniel McGurk

Absolutely fantastic site, forever referencing back to it!
9:37pm 12-30-2017

Visiting your wonderful website once again. It is the definitive quick reference for historical rebreathers. Thanks again for this marvelous site!
2:17pm 12-19-2017

Thanks for sharing such a high quality information!
4:28pm 12-16-2017

I'm trying to get replacement canisters for my Navy MSA mask type A4! Do you have any idea where I can find them? PS Merry Christmas!
2:29am 12-15-2017

Just found your site through a Google search on the ship Gunilda. I was a bit curious about the shipwreck as I found a reference to it in a book "Wake of the Green Storm: A Survivor's Tale" which I had also found through another Google search.

What interested me is that page 154 of that book where it talks briefly about the Gunilda states that the captain at the time of the sinking was an elderly Capt. Alexander Corkum. I had a third cousin named Capt. Alexander C. Corkum who was a very good poet and published a book of poetry "Musings of a Mariner" in 1921.

Could this be the same Capt. Alexander? A little more fortunate Googling and I found the June 2014 edition of Northern Wilds magazine and there on page 51 in an article on lighthouses on Lake Superior (totally unrelated to the Gunilda) they used a quote from one of Capt. Alexander's poems and stated that he had been the Master of the Gunilda. Bingo, a little more information known about an earlier relative.

Sometimes it seems to be most unlikely ways that turn up answers.

Rod Corkum
10:45am 12-13-2017

Thank you for what must be at least my hundredth visit!
I will definitely go naked diving this Saturday to celebrate
11:33pm 11-20-2017

Thank you for sharing this information it's special to me