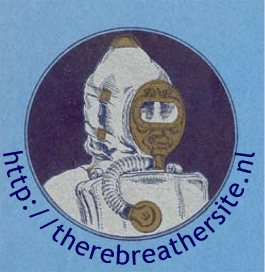 3:29am 05-12-2017

I was a young NAUI dive instructor in the early '70's . SDM classified ad for DB O2 Rebreather caught my eye. I modified the unit by fabricating a canister for the same media we used in anesthesia. Added "aquamaster" mouthpiece and hoses. As I recall the total unit was chest mounted with the O2 cylinder and flush valve (Rt.) low about belt level. In those days we captured reef fish and combed the Santa Fe River in FL for fossils. I had read all of Hans Hass's books and in anesthesia (CRNA) we knew all about closed systems so this was easy and fun. Did experiment with depths to 55' but only short exposures with no ill effects. Great article!
9:09pm 05-09-2017

Thank you for these nice articles nice reading
Best regards Tommy
4:30pm 04-21-2017

what chemicals are best for scrubber
3:32pm 04-19-2017

Fascinating, I learned about the Gunilda while reading Jim Poling Sr book, Unwaking Nanabijou.
3:06pm 04-15-2017

Great site. I actually had to use an OBA outside training. Always wondered if it did as advertised. Yes it did.
1:13pm 04-07-2017

I am a retired Derbyshire Fireman ,I was trained and used the Proto set, I did most of my training at Chesterfield Mines rescue station -
I am trying to recall the donning procedure
went something like this

While the dresser buckles you
take out plug and mouthpiece too
open main valve
take a reading
mouth piece
nose clip bypass do your breathing
if nose clips tight protect your sight
rest assure you will be alright

never had the full facemask
just googles that steamed up and the way to clear woulkd be rotate the sweat within them.
the mouthpiece made you drool saliva from the corners of your mouth
if you were on your back sometimes protosorb would get stuck in the valves and sometimes pass into your mouth
think they were set at 2,5 litres per minand you would have to operate relief valve
all oxygen cylinders were recharged with manual pump
those were the days
11:06pm 04-02-2017

great wright up on the vision electrics .... thanks
7:32pm 03-31-2017

Great website, especially the slimme duikkist. Where did you get that?
5:27am 03-09-2017

Interesting site. I am currently helping Ruby Mathieson with selling Ray's dive helmet collection. Collection/Inventory includes many MK 12 RB, helmets (most crush decommissioned), and MK 12 suits and coveralls. These are all being sold. Total system MK 12 "Jake" can be built up.
9:05am 02-20-2017

Thanks for info and photos from the salvage ship Artiglio and the searching for s/s Egypt.
My relative, captain Gustav Hedbäck on the swedish salvage ship "Fritiof" from Gothenburg (Röda bolaget) in June 19923 reported to Mr Sandberg in London that he had localized the wreck of Egypt. Britt
9:35pm 02-03-2017

I loved the Kryolang story. Why do they not make it anymore?
9:43pm 01-29-2017

Great site. Found it most informative. Thanks.
4:39pm 01-29-2017

I am Saginaw Valley State University student writing a paper on Theodor Schwann, It was very nice seeing some of his work.
Thank you
8:57pm 01-28-2017

Well done, thanks for this. I was hoping you would also have something on the ELIZABETHVILLE - the losts diamonds ship torpedoed 1917 off France (Bay of Biscay). Will keep searching. Thanks again. Great pics.
12:50am 01-24-2017

Hello. I have enjoyed your site very much. I was responsible for submarine diver lock out operations using the system for 2 years 1976 to 78 from Star Pisces operating in the North Sea. I'm interested in putting together a paper for the Historic Diving Society in the U.K. To ensure it's not lost. I have the operating manuals but no photos. I'd like to use some if yours.would this be ok?
Best wishes. Mike O'Meara