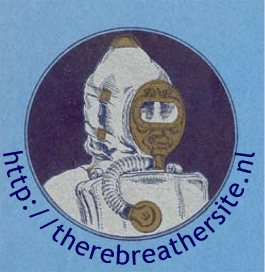 5:24pm 06-08-2018

Oberst Dackel

What a wonderfully unique and fascinating website! Iwas brought here by the Telegraph UK (what passes for "news" or "journalism" today would have made for fine toilet tissue on old subs) but of course being a dullard, I bit the bait, hook line and sinker and I found out Minions were not in fact spawns of the Nazis (oh those crazy naughty Germans still haunting us after 1945 and their Vril technology and their Thulean hollow Earth base (let's not forget their Haunebu UFO's from Antarctica))- but a rather brilliant solution to a serious life-or-death problem of escaping from what can only be any sane persons worst nightmare- drowning in a flooding pitch black tin can at the bottom of the sea. What magnificent heroic bravery these pioneers of re-breather technology had, "no greater love hath no man than this, who lay down his life for another".
7:23am 06-08-2018

robles moreno robert

hi,
i am very interest for is rebreather!
please check me a price.
best regard
bob
2:36pm 06-02-2018

Bob Cuberly

Very much enjoyed all your historical info. I personally did not use the rebreathers but as ET designer and crew for JSL 1 and 2 at Harbor Branch Foundation, and Deep Diving Systems Constructor, and other submarines design and construction, I was aware of the tremendous value of the rebreather designs in diving as well as the NASA aerospace applications. Great to find this article after a long time away, and read about people I have worked with professionally.
Best wishes to all.
7:12pm 06-01-2018

yves Clercin

hello from Canada,
I discovered your website by doing a search on J.E. williamson, do you know how long williamson had the company submarine film company !. would you have old catalog's diving in PDF! I have pdf catalog collection and I write the encyclopedia of sims 1693-1970, for any answers thank you yves
6:14am 05-08-2018

Anthony Ivankovic

Captivating- the result of major effort in investigating the wreck I reckon. Beautiful story.
5:06pm 04-24-2018

Todd Hall

Very Interesting! In fact, fascinating!
1:06am 04-24-2018

Paul Adams

Ex-CD, 1975
4:30pm 04-23-2018

craig lenell

great story! loved all of the old diving gear.
2:46pm 04-23-2018

Thomas C. Hudson

I am one of the direct descendants of Henry Hudson . I enjoyed the story and the photos immensely , Thank you .
2:05pm 04-23-2018

gary

The Lake is one of a kind.
10:21am 04-18-2018

Irina

Hello!
10:00pm 04-09-2018

Seth M.

Great site on obscure and neat stuff! Thanks from Ohio, U.S.A.
11:44pm 03-24-2018

stephen p

digging these historical dive suits. good stuff - all the best to you.

3:53am 03-11-2018

Mr Binh

Dear Sir!
My name Mr BInh, Im in Vietnam.
Im interested your product, I need buy your product: W70 oxygen rebreather with qty: 6 pcs
Can you for me price lists and catalog pls?
See your reply soon
Thanks!
1:11pm 03-04-2018

Peter

intersting site! I dive (open circuit SCUBA) but love history